Belt, Screw and Chain Driven Garage Door Openers
01/21/2017
Back To Blog
When you do not have a remote control device for your garage door, opening it can turn out to be quite troublesome and agitating. To avoid this problem, openers were created so that people could open their garage door with the simple push of a button. If you survey the market, you will come across a few different types of door openers, each having its own set of pros and cons. The following are descriptions of three of the most common types of openers.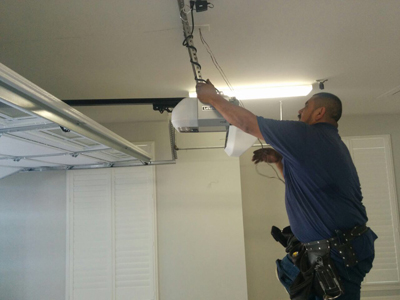 1) Screw Driven Opener
As the name clearly suggests, a particular type of screw is used to make the opener work. The screw is set in motion by a motor. Once the screw starts moving, the door is pulled upwards. It basically boils down to simple mechanics. A lot of people prefer screw driven garage door openers because they believe that it is far easier to maintain than the other variants. It is worth mentioning that screw driven openers are usually self-lubricating mechanisms and are not known to produce much sound. Also, you should know that a screw driven opener contains a relatively lower number of moving parts.
2) Belt Driven Opener
Most experts believe that belt drive openers are top of the line products for any garage in a residential setting. It is pretty much the best product that homeowners can avail when it comes to door openers. A motor is used to trigger the movement of the door. However, instead of a screw, this system makes use of a belt. In other words, a belt driven motor makes the opener function. The biggest advantage of using such an opener is that it is extremely quiet and hardly produces noise that will bother you. It is ideal for garages that are located underneath houses. This quite solution for a door opener has a heftier price tag (understandably) than the other two openers mentioned in this list.
3) Chain Driven Opener
There are no screws involved with this one. It uses a motor that operates with the aid of a moving chain. The movement of the chain is what brings the door down or pulls it up. These openers work just fine, but they can turn out to be a bit of a nuisance because of the amount of noise that they produce. Simply speaking, they aren't too kind to human ears. If you are a person who cannot do without a quiet environment, then this opener is definitely not the right product for you. That being said, people looking for durability in their opener should give this item a try. It can handle a lot more damage than belt and screw driven openers. Not to mention, chain driven openers are remarkably inexpensive.